ORCA/Recreation Services
ORCA Adaptive Recreation Program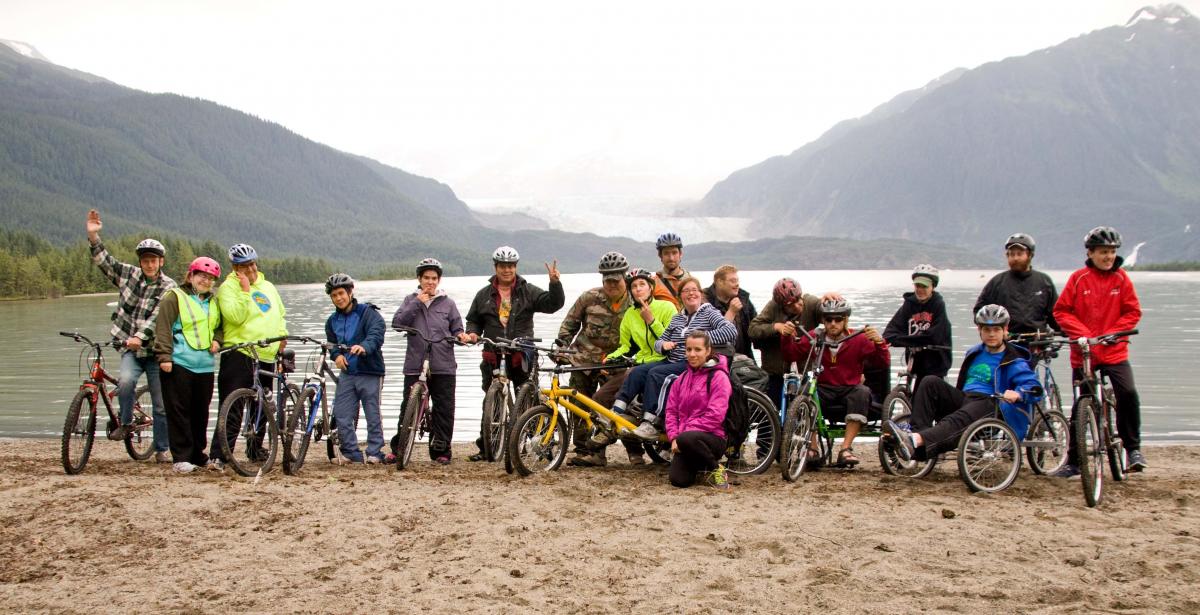 ORCA (Outdoor Recreation and Community Access) is the adaptive sports and recreation program of SAIL. Our purpose is to promote inclusive recreation and adaptive outdoor pursuits for Southeast Alaskan's who experience disabilities. We maintain three offices–one in Juneau, one in Ketchikan and one in Sitka. Services include community access and inclusion opportunities, an adaptive ski and snowboard school, youth and transition recreation services, adaptive outdoor pursuits, adaptive equipment for loan, classes and courses, and multi-day domestic and international trips.

---
News and Updates
ORCA Volunteer Info Night - Nov. 20th 5-6:30 at Coppa
11/9/15
The ORCA Adaptive Ski and Snowboard Program is looking for volunteers again this winter! The ORCA Program provides ski, snowboard and Nordic lessons to people experiencing disabilities and is seeking active volunteers to help assist participants on the mountain. Come drop-in to the ORCA Volunteer Info Night on
Nov. 20th from 5-6:30at Coppa
and find how you can share your passion, make a difference and earn free lift tickets at Eaglecrest! Call ORCA at 586-0104, or email
mahleman@sailinc.org
for more information
Juneau ORCA After-School Activities begin THIS WEEK!
08/24/2015
Juneau ORCA After-School Adventure Clubs for youth experiencing disabilties begin on Aug. 25th! September Adventure Club activities include biking, rock climbing, outdoor explorers, and lots of fun!
The 2015/2016 schedule is as follows:
Adventure Clubs
Our Adventure Club programs have switched days!
YAC- Youth Adventure Club: Thursdays
Elementary Students: 7-11 yrs.
$10/activity (+ride)
MAC- Middle Adventure Club: Wednesdays
Middle School Students: 12-14 yrs.
$10/activity (+ride)
AC- Adventure Club: Tuesdays
High School Students: 14-18 yrs.
$10/activity (+ride)
For more information, scholarship forms, or to sign up your student, contact:eclifford@sailinc.org, or call the Juneau ORCA Office: 907-586-0104.

Learn-to-Adapt Series! Adaptive Rock Climbing Event
08/22/2015
SAIL's Learn-to-Adapt Series: Adaptive Rock Climbing Event will be Saturday, Aug. 22, at 4pm at The Rock Dump Climbing Gym (on Thane Rd). People with physical disabiliites or injury are invited to come learn about rock climbing, and try out adaptive rock climbing harnesses. For more info or to sign up, call 907-586-0104.
Juneau Fall ORCA Calendar is out!
08/18/2015
The Juneau ORCA Calendar is published! Check out expanded after-school activities, Rock Climbing & Ice Skating Courses, and a big trip to Bryce & Zion National Park! Contact the Juneau ORCA Office to sign-up for activities and trips. Download and print a
Fall Calendar
copy here. Or visit, the
ORCA Calendars
tab. For more info or to sign up, call 907-586-0104.
Juneau ORCA Fall Volunteer Training!
08/13/2015
Join SAIL's adaptive sports program for our annual fall volunteer training. Learn how to belay a climber, properly fit a harness, or how to use adaptive equipment and devices to get people of all abilities up the wall! For more info or to sign up, call 586-0104.
ORCA Summer Trips!
6/30/2015
Sign-up for a quick adaptive trip this summer with ORCA!
Haines SE Alaska State Fair - July 30-Aug 2 - $300
Kluane Bike & Hike Trip - Aug 2-6 - $400
Call ORCA for more information or to sign-up: 907-586-0104
Juneau ORCA Hiking Course & Zipline!
6/30/2015
Join ORCA as we explore Juneau's exceptional hiking trails! The course location will vary based on trail conditions and ability levels. Participants will increase endurance, learn hiking safety and packing skills, and peer-to-peer support. The Course Capstone will be an (optional) 5-day Hike & Bike trip through Kluane National Park in Yukon, Canada in August. Call ORCA to sign-up: 5
Juneau ORCA Whale Watch Tickets, Now on Sale
5/12/15
Tickets are now on sale for Juneau's annual Whale Watch and Wildlife Cruise. A big thank you to Allen Marine for graciously sponsoring this event each year. There are limited seats available and this cruise sells out every year.
For tickets and info, click here.
Can't go? Donate a ticket to a consumer who can!
Juneau Learn-to-Adapt Series: Adaptive Kayaking & Cycling
4/07/2015
Saturday, May 9th - Drop by SAIL's new Learn-to-Adapt Series: Adaptive Kayaking & Cycling Event for people experiencing physical disabilities and Disabled Veterans at Twin Lakes Shelter from 10-2pm. All ages and experience levels are welcome. Try out hand-cycles, tandem side-by-side bikes, recumbent cycles, and learn about adaptive kayak gear, safety, and technique! Call SAIL for more info, or just sring by! Cost: $FREE.
ORCA Juneau Summer Calendar Published!
4/10/2015
The ORCA 2015 Juneau Summer Calendar (May-Aug) has been published, and can be viewed on Facebook, Twitter, Google Calendar, and on the SAIL website under the "Services & Programs"/"ORCA
" tab. Sign-up for one of the many exciting Adaptive Courses, Multi-day Trips, Youth Day Camps, and Special Events including Ziplining, Annual Wildlife Cruise, and the new Learn-to-Adapt Series: Adaptive Kayaking & Cycling specifically for people experiencing physical disabiliies. Contact ORCA Juneau Office to sign-up or for more information: 907-586-0104.