ORCA/Recreation Services
ORCA Adaptive Recreation Program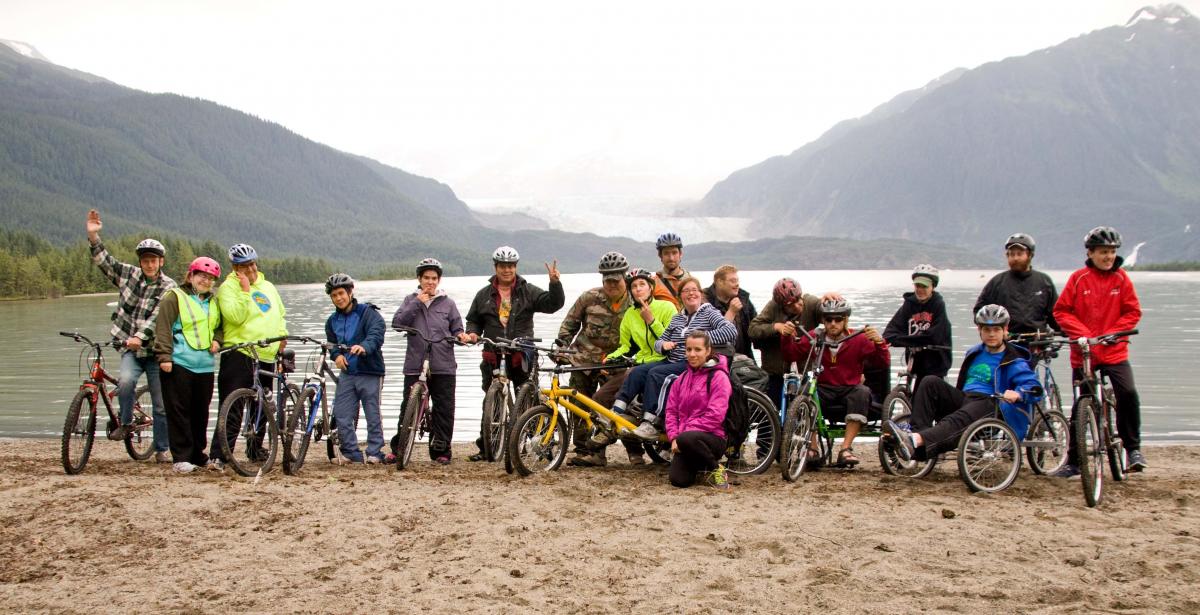 ORCA (Outdoor Recreation and Community Access) is the adaptive sports and recreation program of SAIL. Our purpose is to promote inclusive recreation and adaptive outdoor pursuits for Southeast Alaskan's who experience disabilities. We maintain three offices–one in Juneau, one in Ketchikan and one in Sitka. Services include community access and inclusion opportunities, an adaptive ski and snowboard school, youth and transition recreation services, adaptive outdoor pursuits, adaptive equipment for loan, classes and courses, and multi-day domestic and international trips.

---
News and Updates
ORCA Juneau Summer Calendar Published!
4/10/2015
The ORCA 2015 Juneau Summer Calendar (May-Aug) has been published, and can be viewed on Facebook, Twitter, Google Calendar, and on the SAIL website under the "Services & Programs"/"ORCA
" tab. Sign-up for one of the many exciting Adaptive Courses, Multi-day Trips, Youth Day Camps, and Special Events including Ziplining, Annual Wildlife Cruise, and the new Learn-to-Adapt Series: Adaptive Kayaking & Cycling specifically for people experiencing physical disabiliies. Contact ORCA Juneau Office to sign-up or for more information: 907-586-0104.
ORCA Whitehorse Ski Trip!
3/19/2015
A group of ORCA Skiers from Juneau and Haines will be headed to Whitehorse, Yukon for the weekend, to ski at Mt Sima Resort. Check out the SAIL Facebook page as we document our adventures!
Eaglecrest is OPEN again this weekend!
2/19/2015
Eaglecrest Porcupine Lift & beginner area will be open this upcoming weekend (Feb. 21-22). Participants can sign-up for Saturday or Sunday Lessons & Ski Buddies by contacting the ORCA Office at 907-586-0104. Volunteers may email Volunteer Coordinator, Megan Ahleman to sign-up or find out the available need. Visit www.skijuneau.com for the latest updates and webcams.
Film Showing to Benefit Juneau's ORCA Program
2/11/2015
How hard is it to train for a 100 mile endurance run? Find out as Zak Wieluns trains for the
Vermont 100, one of the original 100 mile endurance races in the U.S. In honor of the VT 100's benenficiary, Vermont Adaptive Sports, all proceeds from this two-day showing benefit SAIL's adaptive sports program, ORCA. TWO SHOWINGS ONLY: 7pm, February 17th and 18th at the Gold Town Nickelodeon.
*There will be a special panel discussion on training for ultra-marathons following the February 17th showing.
Tickets are $10 at the door. Door prizes available.
For more information on the film:
http://www.hammerandsawfilms.com/100.php
​
March Whitehorse Ski Trip!
2/6/2015
ORCA is offering a Ski Trip to Whitehorse, Yukon on March 20-23. Come join a group of other adaptive skiers and boarders in a search for winter snow! Travelers will enjoy two days skiing/snowboarding at Mt. Sima, soak in the Takhini Hot Springs, & stay at cozy Mt. Lorne.
Trip dates: March 20-23, 2015
Cost: $600 (all inclusive)
Traveler Requirements: Must have passport. Must exeperience a disability.
*Note: Trained Ski & Snowboard Volunteers: Please contact ORCA if you're interested in volunteering for this trip.
Saturday Nordic Ski & Skate - Juneau ORCA Program
2/4/2015
The Juneau ORCA Program has added Adaptive Nordic (Cross Country) Skiing on Saturday mornings at the Mendenhall Campground. ORCA will also continue to offer Adaptive Ice Skating on Saturday afternoons. Please contact the Juneau ORCA Office to sign-up for either course by each Thursday. Cost: $15/activity
10-11:30am - Nordic Ski - Mendenhall Lake Campground
1-2:30pm - Ice Skating - Treadwell Ice Arena
All Saturday activites will continue until Eaglecrest re-opens.
Take our Program Survey!
1/31/15
Attention all ORCA program consumers: you could win a $50 credit towards ORCA activities, outings and trips! Just take our short consumer satisfaction survey, and your name will be entered to win one of three (3) credits.
Click here to download the survey
. All surveys must be returned by February 9th.
ORCA Ski & Snowboard Program SUSPENDED
1/21/2015
The ORCA Adaptive Ski & Snowbaord Program is suspended until Eaglcrest Ski Area re-opens with more snow. Eaglecrest has closed operations due to lack of snow, and plan to re-open when the upper mountain receives significant snowfall. ORCA will be offering an adaptive Skating Course on Saturdays from 1-2:30pm until Eaglecrest re-opens. Contact ORCA for more information & stay tuned for updates on snow conditions on Eaglecrest's website:
www.skijuneau.com
.
Learn to ADAPT! - Adaptive Ski & Snowboard Awareness Day
1/12/2015
Sunday Jan. 18, 2015, 10am-2pm
The 5th Annual Learn to ADAPT day welcomes all community members, with and without disabilities to come try out adaptive equiment including sit-skis, nordic sit-skis, and outriggers. Learn more about opportunities for yourself, friends and or loved ones living with disabilities and have a blast discovering the limitless application of new adaptive ski technology. Drop-by the orange tent outside the Eaglecrest Lodge between 10am-2pm and sign-up to demo equipment, or ask questions about volunteering or getting involved. Cost: FREE!