Ramp-Equipped Taxi and the Taxi Voucher Program - Juneau Only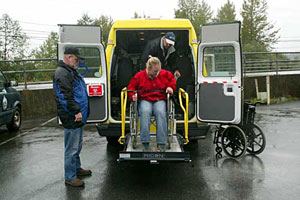 Accessible Taxi A ramp-equipped taxi is available in Juneau thanks to SAIL, the Alaska Department of Transportation and Public Facilities, and Juneau Taxi.
Last minute trips, as well as trips outside of public transit's service area and hours, are a bit more affordable with our Taxi Voucher Program. SAIL and Juneau Taxi have joined forces through government grants for this very popular program allowing people 60 or older, or those with disabilities, to ride for 40 cents on the dollar.
An eligible person must simply complete a short application to be able to purchase fares at this discounted rate. This can be done at the Juneau office: 3225 Hospital Drive, Suite 100. Discounted rates can be used only with Juneau Taxi, they are good for anywhere on the Juneau road system and include use of the wheelchair accessible taxi.
Additional information on the SAIL Taxi Voucher program can be find by clicking here.